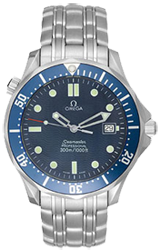 Expert Repair Omega Watches
Dung Lam, the founder of Herndon Clock & Watch Co., is a Twenty First Century Certified Watchmaker who has been providing expert service to customers from all over Northern Virginia for over 30 years. Herndon Clock & Watch Co. is conveniently located in the quaint Historic Herndon Virginia just 5 minutes from Reston Town Center off Elden Street in Fairfax County VA.
With expert knowledge, training, dedication and highest standard of customer service, the highly trained team performs all repairs on high end watches, Rolex, wall clocks, mantle clocks, antique clocks and grandfather clocks. Dung Lam's expert mechanical knowledge of the finest timepieces has been passed down from generations including being certified by the top notch schooling to become certified, licensed and insured. All repairs are done according to manufacturers' specifications and all replacement parts used are genuine.