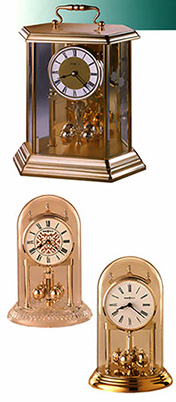 Herndon Clock & Watch carries the largest selection of floor clocks, wall, mantle, grandfather clocks and table clocks in Fairfax County VA.
If you're looking for a clock for your new home, condo or office, come to Herndon Clock & Watch Company. We have customers coming from all over Northern Virginia to buy from our collection of Howard Miller and other highest quality brand names with some great sale prices.
We have chiming clocks, talking clocks, alarm clocks, world-time clocks and weather clocks. If you are shopping for that special gift for a loved one or house warming gift, stop by and our expert trained staff will guide you towards the perfect one of a kind clock. In addition, we can always order from over 400 models from our exclusive catalogues.  Special prices, discounts and deals are offered to our customers daily.  Why not stop by today?