Services

We are Northern Virginia's Number One
choice for Rolex and Omega watch repair.


FREE ESTIMATES
Top notch quality workmanship from Dung Lam and expert team, withover 30 years experience in the performing the expert watch and clock repair, holding the highest certification possible, Twenty First Century Certified Watchmaker.
We recommend factory movement service for your watches to be done every 3 to 5 years, to keep your watches in impeccable condition. Allowing more than 5 years to pass between servicing can cause unseen problems. We offer a 2 year warranty on certain high end watches, and we use only genuine parts.
We service high end brand names such as Rolex, Omega, Tag, Heuer, Movado, Hamilton, Rado, Longines, Panerai, Catier, IWC, Breitling, Gruen, Waltham, Bulova, Elgin, Ebel, Le Coultre, Patek Philippe, Vacheron. The rubber gaskets and o-rings that seal the watch can begin to dry out and break down, thus causing moisture to be introduced into the movement. All watches must be waterproofed when they leave our shop.

Only genuine parts are used at Herndon Clock & Watch and we follow all the manufacturers repair specifications.

A complete overhaul or service on your watch will consist of:

Complete disassembly, cleaning, oiling and calibration of the movement in 5 positions
Mainspring is replaced and/or cleaned and lubricated
All seals and gaskets replaced
The case & band are completely refinished
Water resistance and pressure testing

All this AND one year and two warranties offered. Turnaround time on repairs is 2-3 weeks. This may vary depending on the availability of parts.
We Service Top Brand Names Such As:
Rolex • Omega • Tag Heuer • Movado • Hamilton • Rado • Longines • Panerai • Catier • IWC • Breitling • Gruen • Waltham • Bulova • Elgin • Ebel • Le Coultre • Pakek Philippe • Vacheron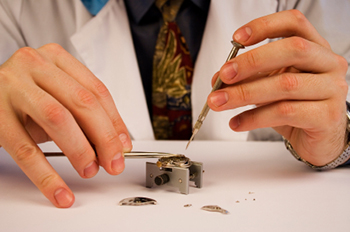 Experts in Grandfather clock, wall, mantle, and table clocks repair and cherished family heirloom antique clocks over 100 years old, our staff is highly skilled in diagnosis of the mechanical problems and will give you a fair estimate on cost to repair your precious time piece.
We use only quality factory standard parts, and we never cut corners when servicing or repairing your clocks.
We work on well known quality brand names such as Howard Miller, Sligh, Set Thomas, Bulova, Rhythm, Comitti of London, German Hermle, Cuckoo Clocks and Black Forest.